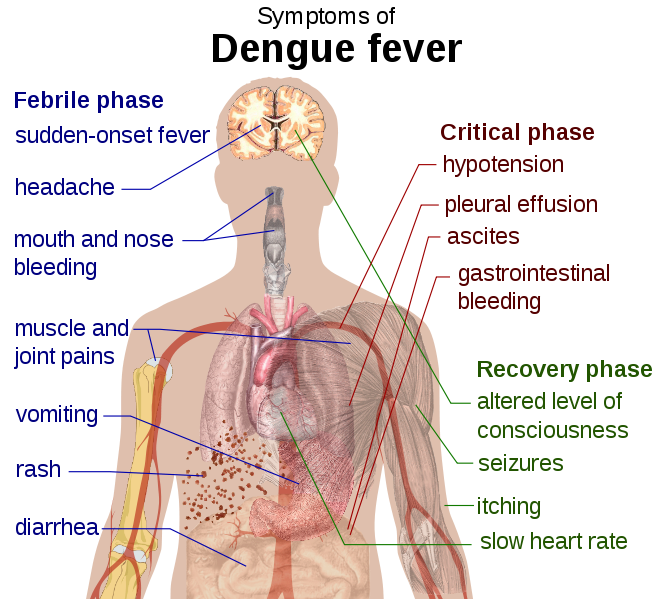 Dengue fever (also known as breakbone fever) is a viral illness transmitted by a type of mosquito called Aedes mosquitoes. It's found in many countries throughout the world, and is particularly common in South-East Asia, India, the Caribbean, South and Central America, and Africa.
Many people, especially children and teens, may experience no signs or symptoms during a mild case of dengue fever. When symptoms do occur, they usually begin four to 10 days after the person is bitten by an infected mosquito.
Symptoms of dengue fever:
The exact symptoms you get depend on your age.
In older children, adolescents and adults, the most common symptoms of dengue fever are:
– High fever that comes on quickly and lasts two to seven days
– Severe headache
– Muscle and joint pain – this is why dengue is often referred to as breakbone fever
– A bumpy, red rash (called a maculopapular rash) that starts on your chest, back or stomach and spreads to your limbs and face
– Pain behind your eyes, especially when you move your eyes
– Flushing of your face
– Feeling sick and vomiting
The symptoms of dengue fever usually begin between five and eight days after an infected mosquito bites you. However, you may not have any symptoms at all.
Young children with dengue often have a fever with a rash, but other symptoms are minor.
More: Life Of Muslim | Muslim Life | Muslim News | Islam News | Quran | Hadith